In January 81 schools painted stones that were donated by Natural Selection and Silverton Aggregates for the Colchester Zoo Rocks project. Colchester Zoo is a zoological
Read More »
In January 81 schools painted stones that were donated by Natural Selection and Silverton Aggregates for the Colchester Zoo Rocks project. Colchester Zoo is a zoological garden situated near Colchester, England. The zoo was opened in 1963. This project was to commemorate the 60th Anniversary of the opening of Colchester Zoo. We, along with Silverton Aggregates supplied approximately 12,000 Scottish Cobbles and around 160 Cambrian Boulders, which were painted by over 11,500 students across Essex, Suffolk and London! On return back to the Zoo, these beautiful stones have been added to the commemorative garden located by the entrance of the Zoo.
Read More »
Natural Selection Products at the Commonwealth Games
We are really pleased to see these lovely images of our 40mm Blue Slate at one of the Commonwealth Games sites in Birmingham. The Welsh Slate was sold through our Merchant, Davis Aggregates to their customer F.B & Sons, Lawns & Landscapes. It was F B & Sons who undertook the regeneration of the area, laying the aggregate and planting a variety of drought-tolerant plants that not only provide long-lasting colour through the year, but also a wonderful scent for passers by. It is always great to see where our products end up!
Read More »
Previous Job roles: Long Rake Spar welcomes our new sales Co-ordinator. Jessica Joined the Natural Selection team after Christmas, having previously worked as a Care Assistant in a care home. She has also worked in the famous Bakewell Pudding Shop, which is just down the road from our head quarters. About Jess: I love to work as a team and hope my bubbly, confident personality will help with customer services aspects of the job. When I am not at work, I spend my time with my 5-year-old son Chester who keeps me very busy! I also love a good Netflix
Read More »
Welcome to New Account Manager Megan Brooker
Natural Selection is delighted to welcome new Account Manager, Megan Brooker for the Central England and Wales region. Megan has many years industry experience. She previously working at IBC Buying Group, Tobermore and Brett Landscaping. Megan is a brilliant addition to the Natural Selection team. She has a well rounded knowledge of the industry and likes to be part of a Merchants 'extended' team. Rachel Aiers who previously covered this area, as well as the South West, will now be managing Merchant Accounts in the South West region. This change aims to improve coverage of the respective regions. Megan loves
Read More »
Long Rake Spar NMBS Race Track Winners
We presented the winners of the NMBS race track competition with their Amazon gift vouchers Following on from a successful NMBS exhibition, we presented the Long Rake Spar Race NMBS Race Track Prize winners with their Amazon vouchers. Our account managers visited; Burnley Plumbing, Bradford's Building Supplies and Alter Landscapes to shake hands with our worthy winners. We created a new concept for the 2021 stand; 'The Long Rake Spar Scalextric Race Track'. Our customers were invited to do 2 laps on the race track whilst being timed. Those ranking in 1st, 2nd and 3rd place from over the 2
Read More »
Back in the fast lane at the NMBS Exhibition
As a result of Covid the past year and a half has been a struggle to say the least. We were unable to provide the customer service and support we pride ourselves on. Our account managers who are usually racing around the country visiting our customers and helping with marketing support set up were banished to their kitchen table. Over 150 aggregate stands and 500 Point of sale boards set up in builders merchants.. We are over the moon to be back out there and have certainly made up for lost time. Our account managers and marketing department have set
Read More »
Trio of Surfacing Solutions: New for 2019
For 2019 we are delighted to introduce three stunning new products into our decorative range. These products were chosen to tie into current market trends which have seen sales in grey landscapingstone outsell the traditional tones of gold and buff. The three new products are Graphite Chippings 14mm as well as Heritage Quartz gravel and Ocean Blue pebbles; both available in 10mm, 14, and 20mm sizes. Our Graphite Chippings are stunning granite chippings with flecks of blue/grey tones, which deepen when the product is wet. This hard-wearing gravel will provide a contemporary feel to any landscape design and works well
Read More »
This week's RHS Hampton Court Flower has showcased some breath-taking gardens to inspire horticulturalists and novice planters alike and we were delighted to be part of it. Each year at RHS Hampton Court, the Celebrity Theatre features engaging demonstrations and discussions with the nation's favourite TV gardeners and surrounding this year's stage were 3 front gardens, created for visitors to enjoy. Long Rake Spar were delighted to be invited to support the 'Mend Our Mountains' garden in association with Everest. The garden is part of the British Mountaineering Council's campaign to repair the UK's mountain paths, bridleways and bridges to
Read More »
CCLA: A Family Garden at RHS Chatsworth
Following its successful launch in 2017, RHS Chatsworth is returning this June with an eye-catching array of landscapes and displays. Amongst the striking collection of show gardens is the CCLA: A Family Garden which has been designed by Amanda Waring and Laura Arison and built by G K Wilson Landscape Services. Long Rake Spar has been approached by Amanda to supply decorative aggregate to match the Bradstone paving used throughout the garden as well as Multi-Purpose Compost for planting beds. The CCLA garden has been designed to bring together aspects of family life with elements of the outdoors. Built across
Read More »
Long Rake Spar are pleased to announce the launch of their new Natural Selection Brochure for 2018. In time for the start of the landscaping season, the brochure has been designed to help stockists, landscapers and end users select the best decorative aggregates for their needs. Originally launched in 2008, the Natural Selection has become an industry recognised collection of leading decorative aggregate products. The Selection includes a unique range of products that have been carefully chosen to add aesthetic appeal and durability to domestic and commercial projects. The new brochure demonstrates the company's continuous commitment to product development, with
Read More »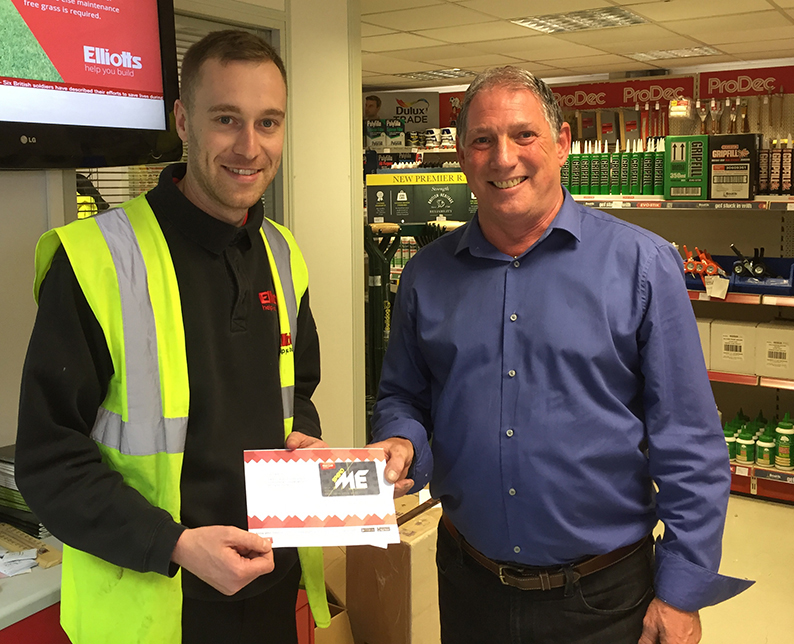 Merchants Win £100 Vouchers in Customer Satisfaction Survey
Earlier this year Long Rake Spar conducted a customer survey within the Builders Merchant Sector to ascertain the company's customer service levels and performance as one of the UK's largest independent decorative aggregate supplies. This invaluable feedback was supplied by their existing customer base who were then entered into a prize draw with the chance to win one of five, £100 high street vouchers. Sales Director Richard Maughan stated "It's crucial that we maintain an understanding of what our customers require, to listen and respond to their suggestions on how we can improve and in doing so shape our products
Read More »
The annual Southport Flower Show welcomed a new entrant in the featured show gardens this year, with C&W Berry Builders Merchants undertaking their first show garden with "A View of an Olive Tree", which was designed to embrace the Mediterranean theme of the show. This award winning garden was designed and created by Kirman Design and picked up a total of FOUR awards including the much coveted Best in Show, along with Best Large Garden, Best Theme of Show and Best Outside Garden. The concept behind the show garden was to provide an inspirational insight into what can be achieved
Read More »
We have expanded our product selection of Scottish Pebbles and Cobbles to include a further 4 additional product sizes. The addition of the 8-14mm and 14-20mm pebbles as well as 30-50mm and 100mm+ cobbles complement the already established best-selling sizes of 20-30mm pebbles and 50-75mm cobbles. These naturally rounded, hard wearing granite pebbles and cobbles are a recognised industry favourite and the addition of these further sizes enables stockists to embrace the sales potential these new sizes offer. Call us for further information on 01629 636210 or email [email protected] Products: Scottish Pebbles
Read More »
Long Rake the Approved Suppliers to Merchants
Long Rake Spar are now approved suppliers to all 5 major buying groups within the Builders Merchant sector. With over 145 years' experience in the decorative aggregate sector, Long Rake Spar have gained national status as one of the UK's largest suppliers of hard landscaping materials into builders merchants. Our products are sourced from quarries throughout the British Isles, Europe and the Far East and part of our ongoing strategy is to continue to find and introduce new and unique decorative aggregates to the UK market. This forward thinking approach has resonated within the builder's merchant sector as we are
Read More »
Long Rake Spar had a fantastic time at the NBG Conference this week. We were there from the 3rd to the 5th enjoying both the day and evening activities. We had a productive 3 days at the conference, many orders were placed and we made some great contacts. A huge effort had been made to entertain us in the evenings which was very much appreciated. The first night was the welcome dinner which had a F1 themed event and saw the members of our Sales Team getting fully involved with the racing car games. Unfortunately our Area Sales manager Chris
Read More »
Spiralling Into Control Garden
This month we've been working to support the Spiralling Into Control garden at the RHS Tatton Flower Show, by donating our Derbyshire Gold, market leading Goldpath and striking Scottish Boulders. The garden, which was designed by Simon Fagg and built by Appleyard Landscape is part of the RHS' Greening Grey Britain campaign and aimed to show visitors that they can create a front garden that incorporates the functionality of everyday life, alongside inspirational planting and sustainable water management. The design offers a responsible way of dealing with rainwater runoff with its green roofed car port and the SuDS compliant Flexi-Pave
Read More »
Long Rake Spar Secures NBG and Bradfords
Long Rake Spar is pleased to announce its appointment as the preferred decorative aggregate supplier to NBG and Bradfords groups. Independent merchants have always been a pivotal focus for the company as we see our products as being a major asset for merchants, providing them with the opportunity to offer something more unique and different from that provided by the larger national groups, in what is undoubtedly a very competitive market place. Marketing Director, Sarah Hill states, "Merchants are actively seeking to strengthen their market share in landscaping as builders and end users increase demand when improving their gardens. Our
Read More »
Long Rake Spar Exhibit at NMBS
This year Long Rake Spar will be exhibiting on stand 249 at the NMBS show on Thursday 16th April at the Ricoh Arena. Independent merchants are a pivotal focus for the company and exhibitions like NMBS give the LRS team a unique chance to meet smaller customers and build upon valued existing relationships. It is also an opportunity to showcase some of our bestselling products, including our Platinum Range incorporating our exclusively imported Flamingo, Ice Blue and White Pebbles, alongside a wide selection of our superior Natural Selection range. This year at the show we will be demonstrating how our
Read More »
Come and visit us on stand S6105 at Ecobuild, from the 3rd – 5th March at Excel This year Long Rake Spar will be exhibiting in the BALI pavilion, alongside other landscaping suppliers and companies. Our expert sales team will be on hand to discuss our range of decorative aggregates with visitors and customers. As members of BALI, the British Association of Landscape Industries, we work closely with contractors and designers to achieve unique and lasting hard landscaping schemes. Our selection of materials provides an extensive choice of exclusive imported products and established best sellers that compliment any project requirements.
Read More »